This memorial website was created in the memory of our loved one, Peyton Cread Blythe who was born in California on October 20, 2006 and passed away on October 20, 2006 . He was 5 lbs. 7oz, 19 in. long. He was born at 3:42 pm and died at 5:42 pm. Peyton passed away due to complications of Graves Disease. Please see the bottom of this page to read about the events that lead up to Peyton's life and death...


We would first like to thank all of our family and friends for the outpouring of love and support that we have received during this tragedy. Most of you never had the opportunity to meet our precious Peyton. He was such handsome little boy with light curly hair and big blue eyes. He was a strong willed fighter who clung to life on earth just long enough for both of us to share a few precious moments with him before going to be with the Lord. We are still struggling to understand God's purpose for taking Peyton only 2 hours after he was born. But in those 2 short hours he was loved a lifetime.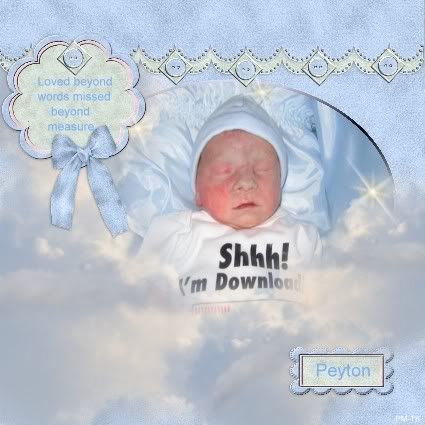 It hurts us to struggle writing this because it almost feels like Peyton's life is summed up in 1 paragraph. We never got to know enough about him to even fill 1 page. We never learned if he liked sports, even soccer. We never got to find out what his favorite animal was or even his favorite color. We did find out that he liked to kick his mommy in the ribs and that from ultrasound images he liked to suck his hands.

We will morn his loss forever and no child will ever replace him in our hearts. We do not fully understand God's plan but we have already seen some of his works in our lives and in the lives of those around us. Peyton has brought people to church that would have never been here. If even 1 unsaved life is brought to the lord through our loss, Peyton's death will not be in vain. As much as we may question God through this deeply painful time, we know that it will not be the last time we get to see Peyton. We know we will see him again one day in Heaven. We take a little comfort in knowing that if Peyton can not be in our arms, at least we know he's in God's hands. We will remember him forever.
***********************************



Peyton
October 20, 2006

Your beginning in this world was quiet
No marching bands
No Beethoven's ninth
Nothing more than a deep sigh of love
From your parents

But in heaven…
Oh, my!
The sound was deafening!
Cymbals crashed and angels sang
Trumpets and tambourines
Vied for attention
And God bellowed out
In His most glorious voice,
"It is good! It is Peyton!"

Fearfully and wonderfully made
You grew
Nestled near your mother's heart
Silently, gently, your body was formed
Unseen by human eyes

But in heaven…
Oh, my!
Each milestone was marked with a flourish in God's beloved book
Your eyes, your hands,
Your toes, your heart
Caused angels to exclaim in awe,
"It is good! It is Peyton!"

Your sojourn on earth was too short
We had barely enough time
To kiss your face
You slipped away from us
With no more than
The fading beat of your heart
And the aching teardrops of your parents

But in heaven…
Oh, my!
A symphony loud and true
Heralded your homecoming
Harps and flutes rang out in notes so sweet
They pierced the clouds with light
Angels fell to their knees before God
And as He welcomed His precious child
He held your face and spoke
His voice deep and rich with love,
"It is good! It is Peyton!"

And so we mourn our loss
We sit in hollow silence
Wondering why we were not
Allowed to keep you
To hear your voice and watch you grow
God's answers seem so faint and far away
Barely audible to our anguished hearts
As we long for the day
We will see you again

But in heaven…
Oh, my!
God relishes each second of your life
His perfect will fulfilled
He knows why
The angels know why
And you, too, know why
And together the inhabitants of your
Magnificent new home cry out,
"It is good! It is Peyton!"

By: Peyton's Nana, Apryl

*************************************
Mommy's story of the life and death of Peyton Cread Blythe:

I wanted to share my story with all of you. It's a bit long but it feels good to be able to tell it....
We decided to go off the pill in December of 2005, in the hopes that it would get out of my system in enough time to try to get pregnant around July of 2006. That would be our one year anniversary and we thought we should be married for a year before trying to get pregnant. I bought a book all about fertility to help me to prevent a pregnancy naturally while letting the pill work it's way out of my system. Well in the beginning of March, I found out I was pregnant. I couldn't believe it. So much for it taking a while for the pill to stop working. I'd only had one period and then BAM, I was pregnant. I was a little scared...you know that whole "there's no going back now" mentality but really excited! So was my husband, Justin. And so started what seemed to be the perfect pregnancy. No morning sickness, no diabetes, no problems. We were told he was a boy and went right out and bought him a bunch of clothes. We picked out Peyton Cread for his name and everyone was expecting him on November 15th. I had two showers and two more planned. My in-laws had come and painted his room and we set up the crib and dresser. We were all on "baby" watch...just waiting for me to pop. Well on October 10th, my midwife sent me in for some testing because they feared I may have been developing pre eclampsia. This is when they discovered that Peyton's heart rate was high and they wanted to try to lower it. They took me off my thyroid medication and decided that if it didn't go down they would C section me. Well it started to go down a little so they thought all would be fine.


On October 18th, I started to feel some mild cramps. I was told it was pre labor and could go on for weeks. Then by the next day they were stronger and more frequent, but right when I thought there was a pattern to them, it would chance a little. I called L&D and they said not to come in yet. So I went through the whole day have contractions and what I now know was back labor. Around 7pm that night I think I lost my mucus plug and started to bleed a little. By 10pm my contractions were coming hard and about 3 min. apart. So we packed everything up and headed to the hospital. They hooked me up to the monitors and said that all was well. His heart rate was still on the high side, but they felt it would correct itself after birth. It took them until almost 3am before I finally got my epidural. I was in so much pain and had not slept. Justin, my mom, and my sister in law were all there with me. Around 7am they broke my water and found that there was miconium (sp?) so they took the midwife off my case and put an OBGYN on it. They also decided I would need some people from the NICU there during delivery because he was 4 weeks early. FINALLY around 3 they said I could start to push. It really didn't take long and at 3:49pm on October 20, 2006, weighing 5 lbs. 7 oz, 19 in. long, Peyton was born. Justin got to cut the cord, but I didn't get to hold him. They whisked him off for the NICU doctors to check him. They kept trying to get him to cry by flicking him on his foot. He cried a few times, but at this point they weren't telling us anything. Then after about 5 minutes they said they needed to take him to the NICU for further tests. They assured us he'd be fine and we could see him later. They stitched me up and got me into my post delivery room. I was a bit upset but really believed he's going to be okay. A while later, they called my room and asked Justin to go down there, as I still couldn't walk from my epidural. He went rushing down and about 15 min. later came back up while they were putting me in a chair so I could go to the NICU. He was sobbing and told me they said "it didn't look good and he's probably not going to make it through the night". I couldn't believe him. I kept looking at him thinking "He's lying". They started to run with me through the hospital to the NICU to get me there in time. He had all these tubes in him and they had bagged him to give him oxygen. It was all too much for me to process. They started to tell me that he had blood in his lungs and they couldn't get it out. He wasn't getting any oxygen to his body and had already suffered a seizure. I started to yell at them through my sobs to fix him! I was screaming "NO!! Fix my baby!!". But they couldn't. They let me hold him and I talked to him and told him how much I loved him. He looked so frail. Then they took him back to see if there was anything else they could do. I watched his heart monitor go from 150 beats per minute down to 70 to 50 to 20 and then he flatlined. I couldn't believe it. I just kept sobbing. They took the bag off him and let me hold him again. They unwrapped him so I could look at him. Then I just couldn't do it anymore and had to leave. I regret that. I wish I had held him longer, but I was afraid I would never be able to give him back. We had about 20 family and friends all there and everyone was shocked and crying. I had to get away from all of them. I just wanted to crawl up and die! They had to give us some sleeping pills so Justin and I could finally fall asleep later. Doctors kept coming in to try to tell us what they thought happened but they were baffled. They don't know how he got that sick and what happened.



My mother in law went to our house that night and put everything baby away in his room. They took the car seat out of our car and put it all in his room with it shut. It remains that way still, Justin and I feel that we'll keep it the way it is until the Lord blesses us with another child.
I miss him so much at times I think I'll die from the pain. Everyday is a struggle and a hurddle, but I continue on.

We decided on a burial instead of cremation because I couldn't stand the thought of my baby being on fire. I ended up having surgery because they found out that both of us were sick from my thryoid condition. For a while we thought I had cancer, but we ended up finding out I don't.
We are now in the process of getting ourselves both physically and emtionally heathly. We are TTC #2 and are praying the Lord to bless us with another healthy child.
****************************************
Grief is a tidal wave that over takes you, smashes down upon you with unimaginable force, sweeps you up into its darkness, where you tumble and crash against unidentifiable surfaces, only to be thrown out on an unknown beach, bruised, reshaped... Grief will make a new person out of you, if it doesn't kill you in the making.

~ Stephanie Ericsson ~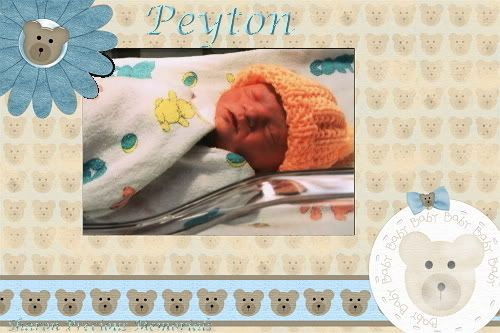 I'm just a little baby
who didn't quite make it there;
I went straight to be with Jesus
but I'm waiting for you here.

Don't you fret about me mommy
I'm of all God's most blessed
I'd have loved to stay there with you
but Heavenly Father knows what's best.

Many who dwell here where I live
waited years to enter in,
they struggled through a world of sorrow
and their lives were marred with sin.

So sweet mommy don't be sad,
wipe those tears and chase the gloom,
I went straight to be with Jesus,
from my lovely mothers womb.

Thank you for the life you gave me,
it was brief but don't complain;
I have all of heaven's glory
suffering none of the world's pain.

Thank you for the name you gave me,
I'm thankful for all you've done.
I'll be waiting here for you
in heaven up above.

I would have loved to stay with you,
And lived life by your side,
But the Lord has called me home,
I know it's hard to understand why.

Thank you mommy for making me,
You made me out of love,
I can't wait for the day I see you again
So you can see what I've become.

I'm an angel here in heaven,
The Lord's here by my side,
He wants me to let you know
He's sorry he made you cry.

He has a plan for me up here,
And a plan for you here too,
Someday we'll be together again,
And this I know is true.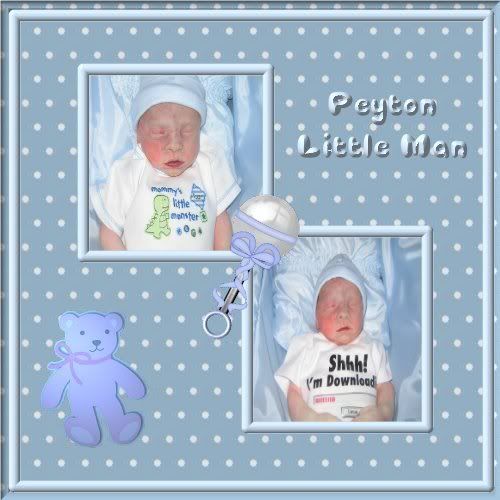 If we could have a lifetime wish
and one dream that could come true
We would pray to God with all our
hearts just to see and speak to you
A thousand words won't bring you back
We know because we've tried
and neither will a million tears
We know because we've cried
You've left behind our broken hearts
and precious memories too
But we've never wanted memories
We only wanted you.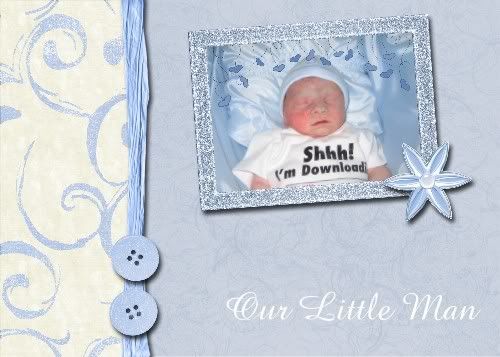 Tiny Angels rest your wings sit
with me for awhile.
How I long to hold your hand,
And see your tender smile.
Tiny Angel, look at me,
I want this image clear....
That I will forget your precious face
Is my biggest fear.
Tiny Angel can you tell me,
Why you have gone away?
You weren't here for very long....
Why is it, you couldn't stay?
Tiny Angel shook his head,
"These things I do not know....
But I do know that you love me,
And that I love you so".

Author Unknown
The Cord

We are connected, my child and I,
by an invisible cord not seen by the eye.
It's not like the cord that connected us till birth,
this cord can't be seen by anyone on earth.
This cord does its work, right from the start,
it bonds us together, attached at the heart.
I know that its there though no one can see,
the invisible cord, from my child to me.
The strength of this cord, it's hard to describe.
it can't be destroyed, it can't be denied.
It's stronger than any cord, man could create,
it withstands the tests, can hold any weight.
And though you are gone, not here with me,
the cord is still there, but no one can see.
It pulls at my heart, I am bruised.. I am sore,
but this cord is my lifeline, as never before.
I am thankful that God connected this way,
a mother and a child, death can't take it away.